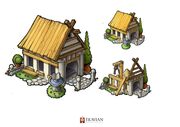 The Academy is the building in which new troop types can be researched.
Upgrades to the academy, sometimes in conjunction with upgrades to other buildings, unlock the ability to research new types of troop units at the academy. For example, in order to research Imperians, Roman players must have an Academy at level 5 and a Blacksmith at level 1. Once researched, Imperians can be trained at the Barracks. Once researched the ability to create the units is not lost, even if the Academy is destroyed. Conquered villages lose all troop research.
Troops must be researched in each village that wishes to build those troops.
Research Requirements And Cost
[
]
| Type | Level Needed | | | | | | Other Requirements |
| --- | --- | --- | --- | --- | --- | --- | --- |
| Legionnaire | 0 | n/a | n/a | n/a | n/a | n/a | Barracks level 1 |
| Praetorian | 1 | 700 | 620 | 1480 | 580 | 2:20:00 | Armory level 1 |
| Imperian | 5 | 1000 | 740 | 1880 | 640 | 2:30:00 | Armory level 1 |
| Equites Legati | 5 | 940 | 740 | 360 | 400 | 1:55:00 | Stable level 1 |
| Equites Imperatoris | 5 | 3400 | 1860 | 2760 | 760 | 3:15:00 | Stable level 5 |
| Equites Caesaris | 5 | 3400 | 2660 | 6600 | 1240 | 4:10:00 | Stable level 10 |
| Battering Ram | 10 | 5500 | 1540 | 4200 | 580 | 4:20:00 | Workshop level 1 |
| Fire Catapult | 15 | 5800 | 5500 | 5000 | 700 | 8:00:00 | Workshop level 10 |
| Senator | 20 | 15880 | 13800 | 36400 | 22660 | 6:47:55 | Rally point level 10 |
Building Costs
[
]
| Level | | | | | | | Culture Points |
| --- | --- | --- | --- | --- | --- | --- | --- |
| 1 | 220 | 160 | 90 | 40 | 510 | 4 | 5 |
| 2 | 280 | 205 | 115 | 50 | 650 | 2 | 6 |
| 3 | 360 | 260 | 145 | 65 | 830 | 2 | 7 |
| 4 | 460 | 335 | 190 | 85 | 1070 | 2 | 8 |
| 5 | 590 | 430 | 240 | 105 | 1365 | 2 | 10 |
| 6 | 755 | 550 | 310 | 135 | 1750 | 3 | 12 |
| 7 | 970 | 705 | 395 | 175 | 2245 | 3 | 14 |
| 8 | 1240 | 900 | 505 | 225 | 2870 | 3 | 17 |
| 9 | 1585 | 1155 | 650 | 290 | 3680 | 3 | 21 |
| 10 | 2030 | 1475 | 830 | 370 | 4705 | 3 | 25 |
| 11 | 2595 | 1890 | 1065 | 470 | 6020 | 3 | 30 |
| 12 | 3325 | 2420 | 1360 | 605 | 7710 | 3 | 36 |
| 13 | 4255 | 3095 | 1740 | 775 | 9865 | 3 | 43 |
| 14 | 5445 | 3960 | 2230 | 990 | 12625 | 3 | 51 |
| 15 | 6970 | 5070 | 2850 | 1270 | 16160 | 3 | 62 |
| 16 | 8925 | 6490 | 3650 | 1625 | 20690 | 4 | 74 |
| 17 | 11425 | 8310 | 4675 | 2075 | 26485 | 4 | 89 |
| 18 | 14620 | 10635 | 5980 | 2660 | 33895 | 4 | 106 |
| 19 | 18715 | 13610 | 7655 | 3405 | 43385 | 4 | 128 |
| 20 | 23955 | 17420 | 9800 | 4355 | 55530 | 4 | 153 |
| Total | 108720 | 79075 | 44475 | 19770 | 252040 | 62 | 153 |
Construction Times
[
]
Construction Period Based On Main Building Levels 1-10

[

]
Academy Level
Main Building Level
1
2
3
4
5
6
7
8
9
10
1
-
-
0:31:00
0:30:00
0:28:40
0:24:40
0:26:40
0:25:40
0:25:00
0:24:00
2
-
-
0:40:30
0:39:10
0:37:30
0:36:20
0:35:00
0:33:50
0:32:30
0:31:20
3
-
-
0:51:40
0:49:50
0:48:00
0:46:20
0:44:40
0:43:00
0:41:30
0:40:00
4
-
-
1:04:40
1:02:20
1:00:00
0:57:50
0:55:50
0:53:50
0:51:50
0:50:00
5
-
-
1:19:40
1:16:50
1:14:00
1:11:20
1:08:50
1:06:20
1:03:50
1:01:40
6
-
-
1:37:00
1:33:30
1:30:10
1:26:50
1:23:50
1:20:50
1:17:50
1:15:00
7
-
-
1:57:10
1:53:00
1:48:50
1:45:00
1:41:10
1:37:30
1:34:00
1:30:40
8
-
-
2:20:30
2:15:30
2:10:40
2:06:00
2:01:20
1:57:00
1:52:50
1:48:50
9
-
-
2:47:40
2:41:40
2:35:50
2:30:20
2:24:50
2:19:40
2:14:40
2:09:50
10
-
-
3:19:10
3:12:00
3:05:10
2:58:30
2:52:00
2:45:50
2:39:50
2:34:10
11
-
-
3:55:40
3:47:10
3:39:00
3:31:10
3:23:30
3:16:10
3:09:10
3:02:20
12
-
-
4:38:00
4:28:00
4:18:30
4:09:10
4:00:10
3:51:30
3:43:10
3:35:10
13
-
-
5:27:10
5:15:30
5:04:10
4:53:10
4:42:40
4:32:20
4:22:40
4:13:10
14
-
-
6:24:10
6:10:20
5:57:00
5:44:10
5:31:50
5:19:50
5:08:20
4:57:20
15
-
-
7:30:20
7:14:10
6:58:30
6:43:30
6:28:50
6:14:50
6:01:30
5:48:20
16
-
-
8:47:00
8:28:00
8:09:50
7:52:10
7:35:10
7:18:50
7:03:00
6:47:40
17
-
-
10:16:00
9:53:50
9:32:30
9:11:50
8:52:00
8:32:50
8:14:20
7:56:30
18
-
-
11:59:10
11:33:20
11:08:20
10:44:20
10:21:10
9:58:50
9:37:10
9:16:30
19
-
-
13:59:00
13:28:50
12:59:40
12:31:30
12:04:30
11:38:30
11:13:20
10:49:00
20
-
-
16:17:50
15:42:40
15:08:40
14:36:00
14:04:30
13:34:00
13:04:40
12:36:30
Total
-
-
102:43:20
101:55:30
98:15:20
94:43:20
91:18:40
88:01:20
84:51:00
81:48:00
Construction Period Based On Main Building Levels 11-20
Academy Level
Main Building Level
11
12
13
14
15
16
17
18
19
20
1
0:23:00
0:22:20
0:21:20
0:20:40
0:20:00
0:19:20
0:18:40
0:18:00
0:17:20
0:16:40
2
0:30:20
0:29:10
0:28:10
0:27:10
0:26:10
0:25:10
0:24:20
0:23:20
0:22:30
0:21:50
3
0:38:30
0:37:10
0:35:50
0:34:30
0:33:20
0:32:10
0:31:00
0:29:50
0:28:50
0:27:40
4
0:48:10
0:46:30
0:44:50
0:43:10
0:41:40
0:40:10
0:38:40
0:37:20
0:36:00
0:34:40
5
0:59:20
0:57:10
0:55:10
0:53:10
0:51:20
0:49:30
0:47:40
0:46:00
0:44:20
0:42:40
6
1:12:20
1:09:40
1:07:10
1:04:50
1:02:30
1:00:10
0:58:00
0:56:00
0:54:00
0:52:00
7
1:27:20
1:24:10
1:21:10
1:18:20
1:15:30
1:12:50
1:10:10
1:07:40
1:05:10
1:02:50
8
1:44:50
1:41:00
1:37:30
1:34:00
1:30:30
1:27:20
1:24:10
1:21:10
1:18:10
1:15:20
9
2:05:10
2:00:30
1:56:10
1:52:00
1:48:00
1:44:10
1:40:20
1:36:50
1:33:20
1:30:00
10
2:28:30
2:23:10
2:18:00
2:13:10
2:08:20
2:03:40
1:59:10
1:55:00
1:50:50
1:46:50
11
2:55:50
2:49:30
2:43:20
2:37:30
2:31:50
2:26:20
2:21:10
2:16:00
2:11:10
2:06:20
12
3:27:20
3:20:00
3:12:40
3:05:50
2:59:10
2:52:40
2:46:30
2:40:30
2:34:40
2:29:10
13
4:04:00
3:55:20
3:46:50
3:38:40
3:30:40
3:23:10
3:15:50
3:08:50
3:02:00
2:55:30
14
4:46:30
4:36:10
4:26:20
4:16:40
4:07:30
3:58:30
3:50:00
3:41:40
3:33:40
3:26:00
15
5:35:50
5:23:50
5:12:10
5:00:50
4:50:00
4:39:40
4:29:30
4:19:50
4:10:30
4:01:30
16
6:33:00
6:19:00
6:05:20
5:52:10
5:39:30
5:27:10
5:15:30
5:04:10
4:53:10
4:42:40
17
7:39:30
7:22:50
7:07:00
6:51:30
6:36:50
6:22:30
6:08:40
5:55:30
5:42:40
5:30:20
18
8:56:20
8:37:10
8:18:30
8:00:30
7:43:10
7:26:30
7:10:30
6:55:00
6:40:00
6:25:40
19
10:25:40
10:03:10
9:41:30
9:20:30
9:00:20
8:40:50
8:22:10
8:04:00
7:46:40
7:29:50
20
12:09:20
11:43:00
11:17:40
10:53:20
10:29:50
10:07:10
9:45:20
9:24:10
9:03:50
8:44:20
Total
78:51:00
76:00:50
73:16:50
70:38:30
68:06:10
65:38:50
63:17:10
61:00:40
58:48:40
56:41:50